Why view this webinar?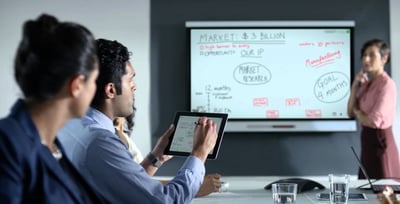 Review AVI-SPL and SMART Technologies from December 7th to learn how an interactive flat panel (IFP) can be much more than simply a display with a touch feature. When combined with the right software and wrapped into a natural, intuitive user experience, it becomes a powerful collaboration tool.
In this webinar, you'll learn how to:
Make the meeting room display a hub where people can connect, from any device, to explore ideas together and get work done

Save time, unlock productivity and improve meeting results
** NOTE: Shared Video Collaboration provides Sound ONLY. **
About the Presenters:
Henning Moe, Channel Manager at SMART Technologies
Henning excels in helping organizations identify new revenue opportunities and maximize the potential of their customer and partner relationships. Prior to joining SMART, he held various roles in the technology industry where he was involved in every aspect of the business, from branding strategy and product development to cold calling new clients and forming new partnerships.
Ryan Striemer, Account Manager at SMART Technologies
Ryan joined SMART in 2013 and in his role works closely with organizations within the Midwest. He believes that understanding the business' needs first is key in order to recognize the technology solution best suited for their organization.
Hosted by:

&