Like this article? Share it with your colleagues.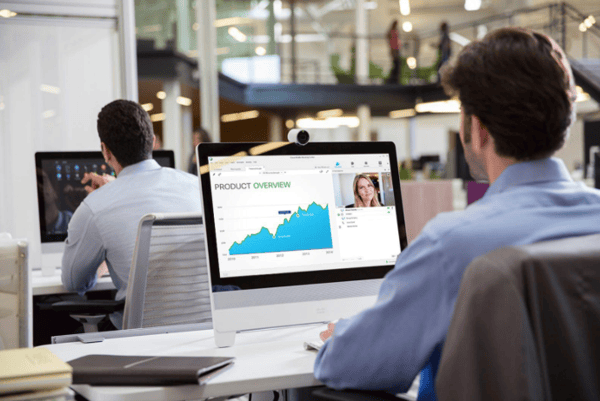 Consider how employees want to work, then choose technologies that facilitate that.
Digital dexterity is important to today's CIOs, but a Gartner survey reveals that only 18 percent of U.S. organizations have the digital dexterity to adopt the newest solutions—including mobile work and virtual collaboration tools—that will allow them to be agile enough to be competitive.

To create a digital workplace, many IT teams are tempted to implement digital solutions and hope or assume that employees will want to engage with and adopt them. However, the promise of technology that transforms the workplace only applies when employees buy in and adopt the technology.

So how do you improve employee engagement and retention? Don't choose solutions then expect employees to adapt. Rather, focus first on your organization's people—not the technology.

Considerations When Choosing Technology
Consider how they want to work, then choose technologies that facilitate that. Start by giving employees input in the technology decision-making process. Ask them how technology fits into their workflow and involve them as beta users. You can collect user feedback from employees through a variety of means, but a voice-of-the-customer survey will help identify both their challenges, wants, and needs.

An especially effective way to choose the best solutions is to document use cases based on user functions or personas and use those workstreams to guide your technology roadmaps.

Foster a culture of learning so that employees feel at ease with the technology. Foster an environment that encourages questions but doesn't pressure employees. It's ok that there is an expectation to learn the technologies but also an understanding that it's ok to make mistakes. It also helps to allow employees to use the devices they prefer.
Improve the user experience—and engagement—by modernizing meeting spaces and making technology invisible. This means implementing solutions that allow employees to get to work right away without a hassle. It also means choosing simple, intuitive user interfaces and single connections, but also getting more input from users. Many organizations with larger IT groups are even forming dedicated end-user experience (UX) groups to improve the user experience and overall employee experience.

One of the most important steps you can take is to proactively prevent issues by integrating solutions with a technology monitoring and management system like AVI-SPL Symphony. Integrating monitoring and reporting systems that manage your conferencing and meeting systems is important so that you can track usage to make improvements that will improve the user experience.

Provide a consistent experience. Standardize solutions so that employees have the same experience whether they're using a desktop, laptop, tablet, smartphone, or meeting room solution. Avoid bias for one form of connection or application and allow users to decide what will make them more likely to successfully connect and collaborate. Carry these standards from room to room, location to location so that all users access communications and collaboration technology in the same way.
Invest in mature conferencing and collaboration technologies for your meeting rooms. Ensure that these solutions work for employees and with other aspects of your organization. All your cloud, software, scheduling and reporting solutions, as well as physical equipment, should work together. Technologies of a digitally dexterous workplace should be:
Collaborative: Solutions should be easy for everyone to connect with, no matter their location.
Intuitive: Employees should find solutions easy to use without much more than brief introductory training.
Standardized: Solutions should provide a consistent user experience. For example, employees shouldn't have to remember how to record a video conference in a meeting room since it should be the same way they do it at their office desk or even at home.
Accessible: The same kinds of solutions should be available to all employees regardless of department or title. This allows for better collaboration as well as better sharing of data.
Integrated: Solutions should work with other aspects of your enterprise to make it easier for employees to collaborate, generate reports, analyze data, and share output, without wasting a lot of time jumping from tool to tool, or requesting support.
The Impact of Implementing Intuitive Solutions
Enterprise companies are seeing that creating meeting facilities that are modern and easy to use increases employee satisfaction. This can lead to better employee retention and productivity. AVI-SPL commissioned Forrester Consulting to conduct a Total Economic Impact™ (TEI) study of its Digital Workspace Solutions, revealing that investment in meeting spaces and technology not only improves employee experiences (and therefore retention), but it has a measurable impact.

The TEI report—which compiles the study's results into a composite, model enterprise organization—states, "Each year, the organization saves 122,500 hours because meetings start on time and due to more intuitive conference technology." That benefits the company in more ways than one because meetings are more productive, and employees are also less frustrated and more focused.

Employee frustration is a sure way to impede productivity and harm morale. One study showed that 37 percent of employees said their company doesn't provide enough training when they implement new technologies. That's a sign that technologies may not be intuitive enough or that employee needs were not taken into consideration. Whatever the reason, a tool that is hard to use is not invisible. Rather, it's a glaring obstacle to employee engagement and digital dexterity.

Employee engagement is one of the keys to productivity, competitiveness, as well as attracting and retaining talent. That's why it's so important to improve the employee experience by making technology as intuitive as possible and getting it out of the way of their work.
Learn How to Improve the Employee Experience in Cost-Saving Measures with User Experience
Want more information about how to make technology intuitive to improve the employee experience? Complete the form and an AVI-SPL team member will contact you regarding your needs.
Recommended For You