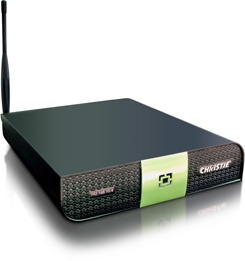 Remote collaboration is only effective when everyone, including remote participants, can see and hear each other and the content being presented. However, in a recent survey, 40 percent of IT professionals said audio-quality issues frequently occur while 37 percent said video-quality issues are a constant problem.1
Unfortunately, getting a high-quality audio and video experience isn't always easy. The consequences of unintelligible sound and low visual quality are unproductive and frustrating meetings. To ensure your meeting room can deliver a quality user experience, consider whether your equipment can deliver the necessary quality and whether it can integrate with other room systems.
Consider these Capabilities for Better Meetings
A video and audio experience can only be as good as the technology supporting it. Before even looking at the audio and video capabilities of a content sharing solution, you must first assess the equipment in the room.
HD Resolution
To fully realize the power of remote collaboration and content sharing and create a near face-to-face experience, an HD display and camera make all the difference. When purchasing a digital display, consider a commercial-grade rather than consumer-grade display. Commercial displays are designed specifically for compatibility with PCs and have the ability to recognize PC resolutions of differing formats and refresh rates. Likewise, when considering an overhead projector purchase, make sure it has an ample lifespan and will work well with the room's ambient light conditions.
Noise Cancellation
So that you can clearly hear and be heard, your audio system should include ambient noise control or noise cancellation to minimize background noises that make it hard to understand the person speaking. For echo issues, make sure you are using echo-cancellation microphones with loudspeakers correctly positioned throughout the room. Using a consumer-grade TV's internal speakers may also create echo issues that are caused by the audio being delayed while the image is being processed. If this is the case, consider replacing with high-quality table-top or ceiling-mounted speakers.
Ensure Presentation Solution Integrates with Existing Equipment
Once your room is properly equipped to create a quality audio and video experience, look at the capabilities of the wireless presentation solution you are considering.
When assessing a solution for video quality, look at its inputs and outputs to ensure compatibility with your display and visual content sharing devices. Be sure DVI inputs can support HDCP, allowing the display of all content from sources such as DVD and Blu-ray DiscTM players. Additionally, consider whether the solution can accept uncompressed video signals as high as 2500x1600 and frame rates of up to 30 frames per second (fps). Output should support the native resolution of the display. Solutions that can't accept high video-signal resolutions, have low frame rates, or low output resolutions will be unable to display smooth motion when accepting multiple steams of video or will make it hard for users to view detailed content such as architectural drawings or spreadsheets with small font.
For a quality audio experience, your presentation should also be able to connect to your in-room audio system. Look for wired stereo-audio inputs and ensure that the solution accepts streaming audio from OSX and iOS devices using AirPlay and from Android or Windows 8.1 and later devices using Miracast. You will find that some collaborative solutions either don't support audio at all or support it only for streamed sources.
Christie Brio Team and Enterprise Solutions
The Christie Brio family of solutions connect, collect, and share content through a single unit. Each element of the system is designed with the user in mind—from device connect to viewing content in-room or, when using the Brio Enterprise, to multiple locations regardless of participants' geographic location.
Through wireless connectivity, team members can display rich, multimedia content from PCs, Macs, iOS, Android, and Window devices at native resolutions. Up to five users—locally or remotely—can simultaneously share and annotate content on a quad-view format that automatically scales to fit content. With the capability to connect directly to in-room sound systems, audio is crisp and clear. While enterprise-grade security protocols such as RDP encryption, SRTP video streaming, and strict control of who can join meetings through password protection for personal devices and Brio's user-interface ensure security. Learn more about Christie Brio security features.
Conclusion To maximize the benefits of collaborative group work, a quality video and audio experience is necessary. Whether you're looking to communicate with clients or within the organization, and whether they're on the other side of the campus or across the globe, the productivity of a group collaboration will be proportional to the quality of the image and sound of the content you are sharing.
About AVI-SPL
AVI-SPL is the world's leading video communications partner, one that designs, builds, and supports the systems and environments that enable communication and collaboration. AVI-SPL's Customer Care Program provides manufacturer-authorized maintenance, tiered-support options, and access to our U.S.-based helpdesk, which is staffed by trained AV and video conferencing specialists 24/7/365. Learn more.
About Christie Christie offers world-class displays and wireless presentation solutions for any type of content, including everyday business, education, and training applications. Christie, a global market leader in visual technologies, is committed to providing high-quality, innovative visual solutions that improve the way people collaborate and do business. Get more information
1"What the Heck Is Wrong with Video Conferencing?" Highfive, 2016.
Request Your Christie Brio Quote Today