Successful Digital Signage Starts With a Plan



Discover what makes those eye-catching displays work their magic on the viewer.

With the right planning, design and delivery, digital signage captures the attention of your target audience, including customers, partners, and employees.
Download the tech paper, "Content and Design Strategies for Digital Signage," and learn how to: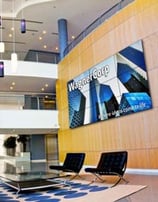 Capture the attention of your audience

Keep them engaged

Assign content management responsibilities




Find expert partners to keep your content fresh
Read "Content and Design Strategies for Digital Signage" for the tips and advice that gets results.
About the Author
Rich Daugherty is AVI-SPL's Digital Media Solutions Engineer. He has been creating and designing digital content for 18 years, working with companies of all sizes and industries. At AVI-SPL, Rich works with several different software applications to create an experience that suits the client—including touch-screen interactivity. Rich is skilled at training clients on the software and explaining the proper use of digital signage content.